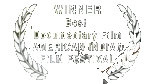 River of Renewal tells the story of conflict over the resources of California and Oregon's Klamath Basin. Over the years, different dominant groups have extracted its minerals, trees, and water with disastrous consequences, including the collapse of industries and of wild salmon populations.
The film follows Jack Kohler, a Yurok/Karuk Indian who grew up in San Francisco, on a journey of self-discovery in the land of his ancestors. Jack learns about the ancient cultural traditions of his people and also their modern-day struggles to defend tribal rights and the Klamath River.
RIVER OF RENEWAL documents protest and acts of civil disobedience as Indian tribes, farmers, and commercial fishermen defend their ways of life. It witnesses a remarkable turnaround as politically polarized stakeholders and government agencies overcome bitter divisions in reaching a consensus about the future.
In September, 2009, the Secretary of the Interior announced the agreement between the California and Oregon governors and Warren Buffett's PacifiCorp to remove the four hydroelectric dams on the Klamath River. The plan aims to restore economic viability along with the ecological integrity of a region larger than nine of the fifty states. There are many ways in which it could fail, but if the Klamath does become a river of renewal, that success would have a ripple effect around the world.
"It's a compelling tale, made even more poignant by intimate moments with members of the tribal council, fifth-generation commercial fishermen, and salt-of-the-earth farmers upstream—all of whom depend on the Klamath's diminishing flow for survival."
- World Rivers Review
"A clear and thorough hour-long documentary that illuminates the multifaceted battle for water and livelihoods on the Klamath River."
- Colin Carpenter, International Rivers
"Stephen Most authored a great book, River of Renewal, about the controversies surrounding the dams on the Klamath River and the effects on the tribes and farmers. Now he has released a documentary film with the same name. I've seen it and it is a great production. The film treats the parties fairly and makes the complex easy to understand and entertaining to watch."
- Malcolm Terence

ABOUT THE BOOK River of Renewal, Myth and History in the Klamath Basin
"If a new book of regional history aspired to classic status, it would be ingeniously conceived and gracefully written. It would break new ground and offer penetrating insights. It would prove indispensable to understanding a controversial current event. Stephen Most has written such a book.
- Portland Oregonian
Background Photo: David McLain/Aurora